Sapphire Spreader Rosemary
Rosmarinus officinalis 'Irene' ('Renzels')
Images shown are of mature plants.
Rosmarinus officinalis 'Irene' ('Renzels')
Regular price
Sale price
$14.95
Unit price
per
View full details
Description
Rosmarinus officinalis 'Irene' is a spreading, mounding rosemary with sapphire blue-violet flowers that is sure to add beauty and interest to any waterwise garden.
Rosemary is a popular landscape plant that adds a vibrant look to any garden or outdoor space. With its origins from the Mediterranean region, Sapphire Spreader Rosemary is a drought tolerant, semi-prostrate evergreen shrub that is low maintenance. 

Sapphire Spreader Rosemary is great for hot and dry locations and is attractive as a ground cover on banks or slopes. This rosemary also looks stunning in raised beds or patio planters where the fragrant foliage can cascade over the edge. Rosemary 'Irene' can be featured in a variety of landscape design styles such as coastal gardens, rock gardens, Mediterranean or herb gardens. Plant in a pollinator-friendly garden where the rich blue-violet flowers will attract butterflies, bees, and other beneficial insects in late winter to early spring.

Sapphire Spreader is a beautiful and fragrant rosemary. The aromatic, bright green needle-like leaves of Rosmarinus officinalis 'Irene' can be used as a flavorful culinary seasoning. Its strong, distinctive scent is desirable for essential oils and aromatherapy.

A rosemary with many names, this Sapphire Spreader was originally patented under the cultivar name 'Renzels' in 1995 and marketed under the trademark name 'Irene'. The botanical name, Rosmarinus officinalis, has been reassigned to the Salvia genus and is now known as Salvia rosmarinus. Whichever name you prefer, this spreading rosemary with vivid blue flowers is sure to be a pleasing addition to your garden.

Plant care
To properly care for your Sapphire Spreader Rosemary, it is important to provide it with full sun and loose, well-draining soil.
Water deeply and regularly to develop a strong root system. Allow the soil dry between watering; once established, reduce frequency. Rosemary grows best in well draining, slightly acidic soils. It does not like heavy clay or soggy soils. Rosemary is native to dry scrub and rocky areas in the Mediterranean region.
Prune after flowering to maintain size, shape, and encourage dense growth.
Winter hardy to 15℉ and tolerates drought, alkaline soils, sea spray, deer, and rabbit.
Rosmarinus officinalis 'Irene' is believed to be a seedling between Rosemary 'Prostrata' and 'Ken Taylor'
Plants Express is delighted to offer Sapphire Spreader Rosemary to our customers and we are confident that it will be a great addition to any garden.
California grown
Everything Plants Express delivers is GROWN IN CALIFORNIA, FOR CALIFORNIA.
We source from the best growers, utilizing relationships that have lasted decades.
Each plant is hand selected, carefully procured and monitored up until the moment our van arrives at your location.
Delivery day
Flat Rate
All orders have a flat rate delivery fee of $29.95.
Quality
Delivering premium quality plants is a core value for everyone at Plants Express. Whether it is a small plant or a large tree, we use the appropriate vehicles and team members to deliver your order in a timely manner.
Do you need help?
Our friendly plant experts are here to help. Give us a call or chat with us now.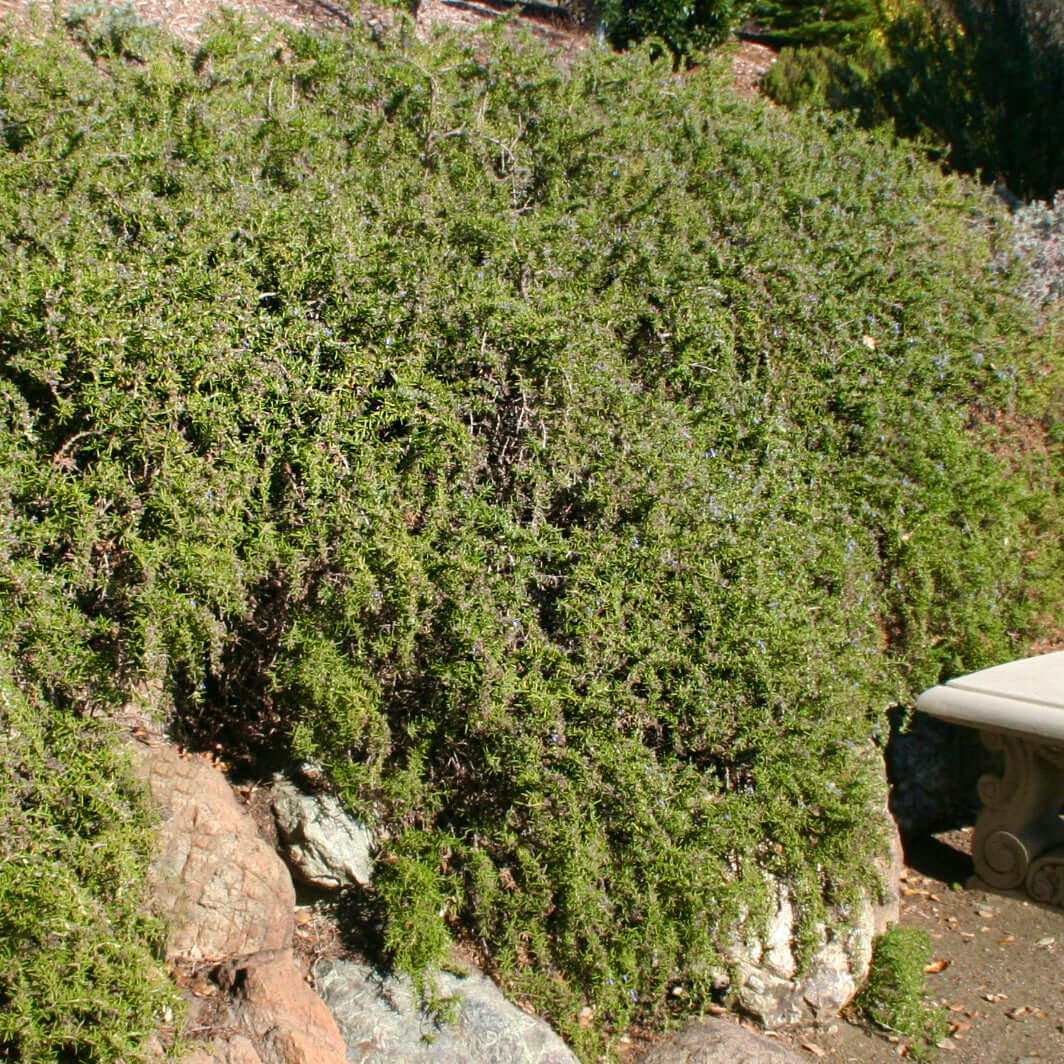 You may also like
Regular price

Starting At $14.95

Regular price

Sale price

Starting At $14.95

Unit price

per