Images shown are of mature plants.
Salvia 'Wendy's Wish'
Regular price
Sale price
$39.95
Unit price
per
View full details
Description
Salvia 'Wendy's Wish' is a beautiful waterwise sage that is perfect for the California garden. With its bright magenta-pink blooms that flower from spring to fall it's sure to add beauty and color to any landscape.
'Wendy's Wish' is a Salvia buchananii hybrid that is part of the Salvia Wish Collection which is aligned with Make-A-Wish® Australia. This upright, dome-shaped, dense perennial is fast growing and has a long flowering season. Spikes of unique hot-pink tubular flowers with a red-bronze calyx appear from spring through fall. In frost-free climates, Salvia 'Wendy's Wish' can bloom year-round.
The tidy, compact habit of Wendy's Wish Sage is ideal for small gardens and patio pots. This beautiful Salvia is versatile and can be used in various garden styles, including cottage, contemporary, and Mediterranean landscapes. It is an excellent choice in mixed borders or mass plantings where it will make a colorful and dramatic statement. Plant in a pollinator-friendly garden to attract hummingbirds and butterflies.
Wendy's Wish Sage is a fantastic plant to add to any garden. Its stunning flowers of deep magenta create a dramatic contrast against the dark green foliage. Longer blooming, low maintenance and drought tolerant, Salvia 'Wendy's Wish' is a must-have for anyone looking to add beauty to their garden.
Plant care
Wendy's Wish Salvia is a Salvia hybrid variety that was developed in Australia and is part of the Salvia Wish Collection, an alignment with Make-A-Wish Australia where a portion of the plant proceeds are donated to this special charity.
Salvia 'Wendy's Wish' is waterwise and low maintenance and prefers well-draining soil in a location with full sun.
Water regularly to establish roots then reduce frequency and water as needed. The amount of water required is dependent on several environmental factors such as wind, temperature, soil type, and light intensity.
Pruning or deadheading is not required but you can cut back a third of the plant after the first flowering period for optimal flower display with the next flush of blooms. Pruning will also encourage a compact dense habit.
Evergreen in frost-free climates. Hardy to 25°F. Can be grown as an Annual in colder climates.
Salvia 'Wendy's Wish' PP21889 is a patented Salvia hybrid cultivar, asexual reproduction is prohibited. The plant patent expires in 2029.
California grown
Everything Plants Express delivers is GROWN IN CALIFORNIA, FOR CALIFORNIA.
We source from the best growers, utilizing relationships that have lasted decades.
Each plant is hand selected, carefully procured and monitored up until the moment our van arrives at your location.
Delivery day
Flat Rate
All orders have a flat rate delivery fee of $29.95.
Quality
Delivering premium quality plants is a core value for everyone at Plants Express. Whether it is a small plant or a large tree, we use the appropriate vehicles and team members to deliver your order in a timely manner.
Do you need help?
Our friendly plant experts are here to help. Give us a call or chat with us now.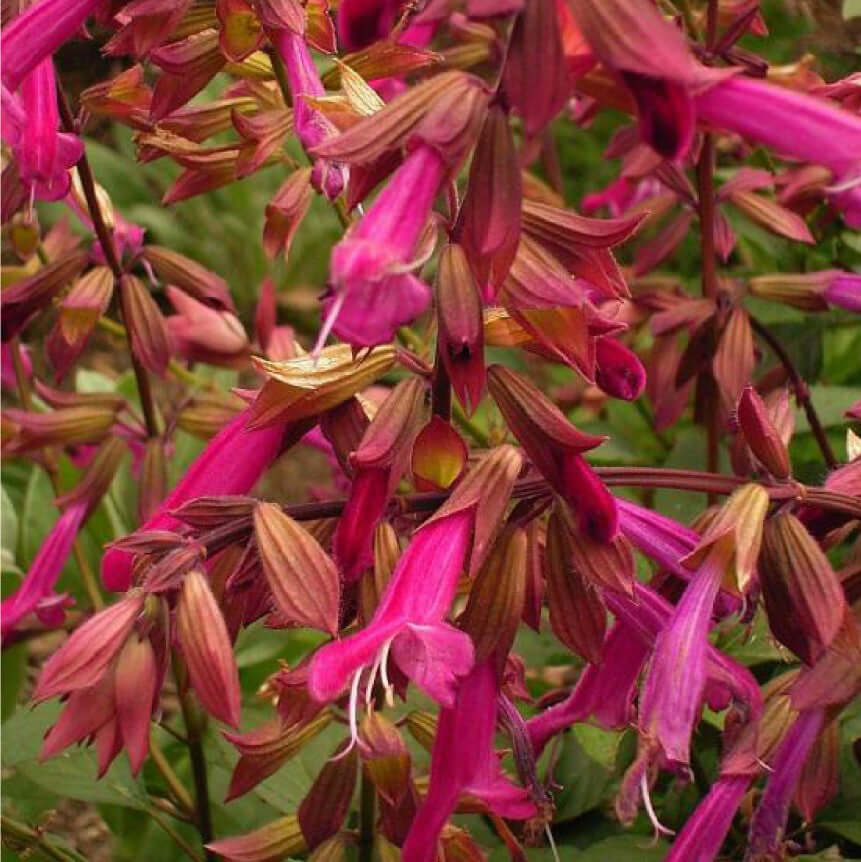 You may also like
Regular price

Sale price

$19.95

Unit price

per